Stop Stressing Over getting new clients every month! Leverage Long-term
government

contracts...

Learn to Bid and Win from the Expert!
Are you ready to get in the best position to win contract government contracts?
Watch this short video: How To Win Government Contracts Without Being Overwhelmed By The Application And Bidding Process
Imagine gaining the confidence to bid and win government contracts to build predictable, stable income for your business.
Imagine not stressing day in and day out constantly trying to figure out how to get clients and close sales, but it's exhausting.
What if you could master the application process and successfully land government contracts for your business?
I know. You've tried various ways to increase your profitability. And let's be real, you've spent your resources, especially your time, in all the wrong places. It's time to get back to the basics.
What if I told you that you could effortlessly grow your revenue with endless contracting opportunities...
...with the help of someone who provides direct insider knowledge designed to aid you in generating an abundance of profit for your business?
▪ ▪ ▪
Before landing on this page, you probably were:
Searching for answers on the SBA website, from Google, and other online experts.
Frustrated from being stuck and not landing contracts you apply for, because you're not successfully set up to win them.
Overwhelmed by the application process and not really having the right idea of where to start.
Lacking the fruitful connections within government agencies that can help multiply the probability of winning contracts.
Thinking "I don't think my goods or services are useful to the government" or questioning "Well, how much money can I really make from government contracts?"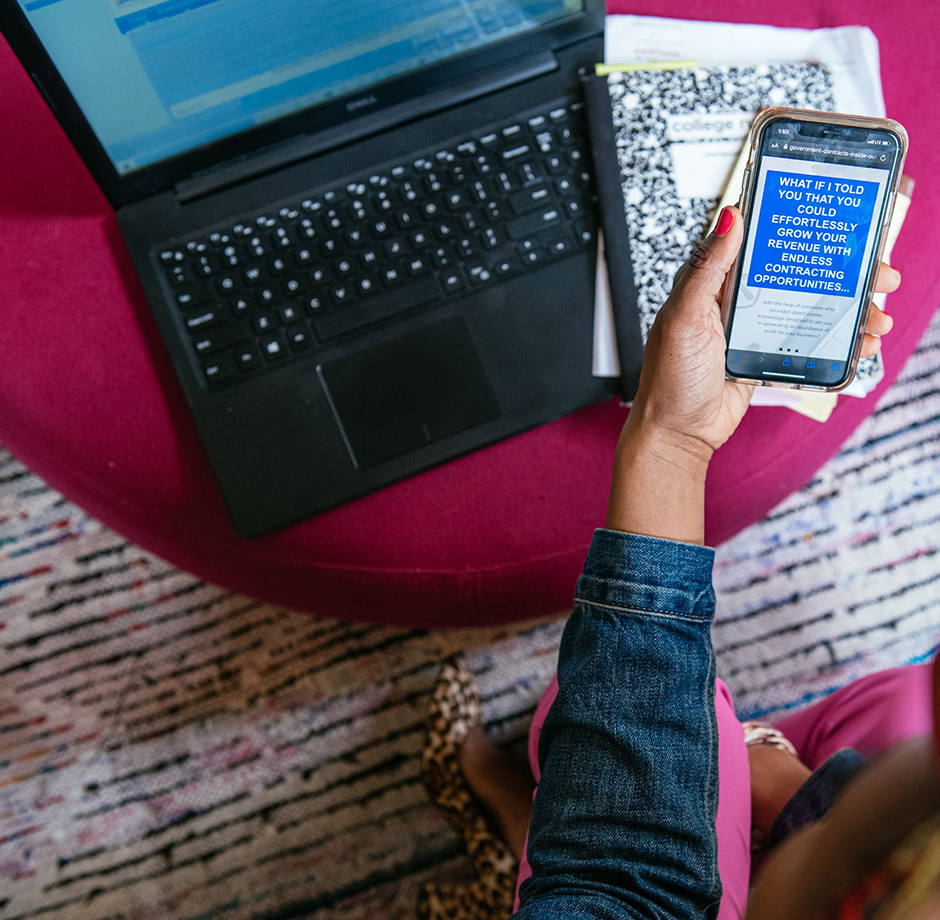 Spoiler Alert:

The government contracting industry is a $594 BILLION DOLLAR industry, with over $100 billion going to small businesses. So yes, there's room for you.

If you answered yes to some or all of these, then it's time for you to grab your spot in this online course that will be a game-changer for your business.

- Source: Bloomberg Government
Government Contracts Inside Out™
the solution for small business owners who want to confidently bid and win government contracts, in order to increase revenue, scalability, and sustainability as a thriving business.
Being a boss at winning government contracts ideal for your business is absolutely possible if you learn the strategies, tools, and techniques that I will teach you in this tailored online course. Because I've been where you are and I know a well put together application package when I see one.
The Formula for a Winning Government Contract Bid
Once you have reserved your winning spot in the course, you will gain access through our online platform, Teachable, where you will create an account and access the following modules. This program also includes 12 weeks of live coaching!
Step 1
Develop your 5-Star Capability Statement, so you can feel 100% confident presenting your services and product. Develop your 5-Star Capability Statement, so you can feel 100% confident presenting your services and product.
Learn how government procurement works & identify key players in the procurement/contracting process
Identify the best product and service codes for your business
Learn how to prepare a 5-star statement of qualifications (your #1 marketing material)
Step 2
Eliminate competition with the right certifications, and unlock opportunities to make the federal and local government your client.
Learn what registrations you need and get your business registered to do business with the government at the federal, state, and, local level
Learn about over 7 different certification you can qualify for and the ones you should apply for to strengthen your application.
Step 3
Generate revenue quickly with subcontract opportunities and build your network within the contracting industry.
Learn where to locate subcontract opportunities
Learn how to find networking events that will allow you to build a pipeline of projects you can work on and build your experience with.
Learn how to build relationships and land business contracts at events
Step 4
Learn how to identify what agencies are buying what you are selling and where to start the bidding process.
Learn how to contact government contracting officers, contract specialist, buyers & small business specialist
Learn how to obtain agency acquisition forecast (so you can know what the agency is buying each fiscal year and you can plan for what contract opportunities you may want to bid on)
Identify various agencies top NAICS codes ( so you can see know the good and services they spend the most money on each year)
Learn how to locate all your contract opportunities then automate the process
Complete list of "Request for Proposals" and "Request for Quotes" to bid on
Have direct access to SB Specialist and Buyers for each RFP or RFQ you are interested in submitting a proposal or quote for
Step 5
Learn how to prepare your Proposal Package that are aligned with what the bid requires.
Learn how to price your bids
Learn how to read and understand what a "request for proposal" (RFP) and "request for quote" (RFQ) is
Requesting and how to respond appropriately
Learn proper proposal preparation
Learn how to outsource the process
You have your Proposal package prepared so you can feel at ease about what to include and what to leave out of your proposal and be confident it is consistent with the requirements.
Book within 2 days and unlock the Bonus Module:
After the Bid ($497 Value)
Small business contractors often run into cash flow deficiencies immediately after winning new contracts. This time between the signing of the contract and the beginning of actual performance is critical for contractors to hire staff and purchase the necessary equipment for their new projects. It can take at least 45-90 days from winning the contract to receive the first invoice. As a result, you may need some working capital to bridge any potential cash flow gaps and get your business up and running quickly.
Learn how to obtain government financing
Understand contract administration and developing a good working relationship with your buyer/contracting officer who is responsible for managing your contract on the government side
Learn about advanced certifications with the general service administration (GSA)
Learn how to get into government mentor/protege programs
Learn why over 50% of business comes at the end of the fiscal year
You will know how to have to establish good working relationships with your government points of contact
You can begin the process for getting on GSA schedules and get more contracts
You will increase your subcontracting opportunities by joining the Mentor/Protege programs
You will maximize your contract opportunities by knowing when to reach out to the Buyers and Program offices and get as many contracts as possible at the end of the fiscal year.
You will:
Prepare Your Contracting Roadmap
Implement the step-by-step walk-through and get certified and qualified for government contracts.
Government Contracting 101
Understand the critical details of government contracts and policies and regulations while doing business with the government so you don't get caught in the cross and debarred from competing ever again.
Determine Which Products and Services You'll Offer
Understand what's valuable to the government so you don't waste time offering the wrong products and services.
Gather Info About the Competition
Use government websites like the Procurement Professionals do and research the competition so you can win.
Network Your Way To The Top
Learn how to cultivate relationships and score business at government small business events so they'll choose YOU when the times come.
Government Contract Financing
Learn how to leverage your contracts or Subcontracts with unique government contract financing.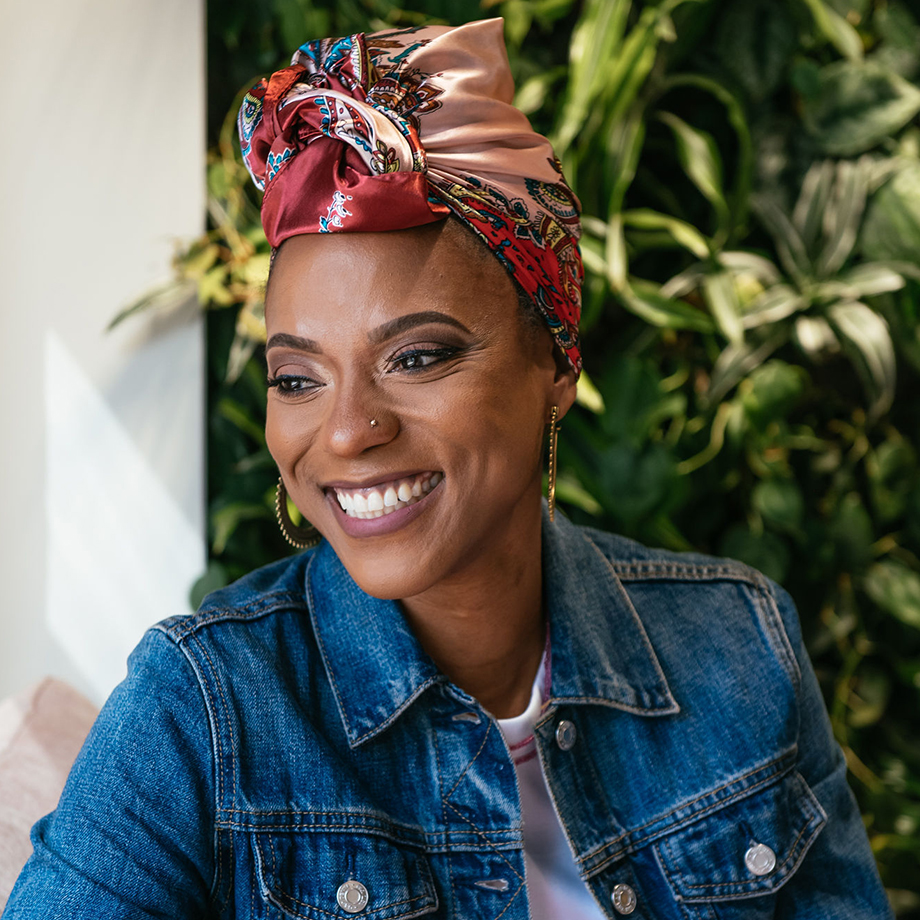 Why Ameka?
Procurement business advisor and government contracting expert, Ameka Ali, is not new to this government game. She offers insider knowledge that helps small business owners position themselves to win government contracts and level up in their business.
As a former federal contracting officer, she has had the experience and privilege to award over $3 billion dollars in contracts to small businesses. Providing one-on-one procurement consulting, Ameka has implemented her signature blueprint to effectively guide businesses through the often confusing twists and turns of landing government deals.
With over 15 years as a high-positioned agent in various government agencies including NASA, General Services Administration, Berkeley Lab and more, she has established real relationships that are available to help her students succeed in the government contracting process.
Knowing that it takes money to make money, she also positions companies to get the funding they need to succeed in today's competitive economy. As a trusted level-three certified consultant in federal acquisition contracting, Ameka offers expertise and experience that will go to bat for your business and help you increase revenue and stability.
There are 3 things most small business owners like yourself are doing before they enroll in Government Contracts Inside Out™
Missing limitless contract opportunities because they lack the 'know-how' in the government procurement process
Overworking themselves by investing too much time and money into irrelevant contracts that don't coordinate with their business.
Looking for help from non-reputable sources such as blogs, websites, and webinars or from high-costing consultants who leave you empty-handed.
It's time you learn how to find the right opportunities to bid on that align with what your business offers. In the Government Contracts Inside Out™ course, you can get a clear understanding and knowledge on how to effectively market yourself for contract opportunities at the federal, state, and local government levels.
Imagine if you could...
Exponentially grow the revenue of your business where you can earn millions of dollars and be paid top dollar by being a successful, trusted government contractor
Obtain the perfect contracts that align with your business and bid to win with unshakeable confidence
Gain access to profitable resources within government agencies who will help you win more contracts
I want to help you build the perfect package that guarantees your win over the right contracts for your business. Navigating the application process is no easy feat, but everything you will learn in this online course plus unlimited live coaching will set your business apart and help you win bids.